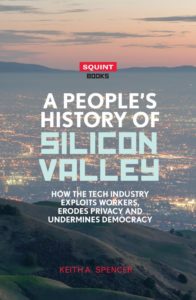 Hello — I'm Keith A. Spencer, a California-based writer and senior editor at Salon.com. I am arguably a generalist as far as editors go: I run our science and health vertical now, and previously ran the economy and tech verticals too, and before that I was editor-in-chief of a culture magazine, The Bold Italic. However, I have a background in the hard sciences that has led me to comment extensively on the politics of science and technology, with a focus on the politics of space colonization and the social ills of the tech industry.
On that note: I published a book in 2018, "A People's History of Silicon Valley: How the Tech Industry Exploits Workers, Erodes Privacy and Undermines Democracy". Read an excerpt here, or find an interview with me about the book here or here or here or here or here.
Prior to working at Salon, I was editor-in-chief of The Bold Italic, a Bay Area–centric, New Journalism culture magazine now owned by Medium. I write fiction and humor under the byline K.A. Spencer, including for McSweeneys.
I'm available for speaking engagements, podcast interviews and writing commissions on a limited basis (I do have a day job at Salon!). I'm represented by Delia Berrigan at Martin Literary Management.
As a career editor, I am very interested in teaching editing as a craft and skill. I think it is curious that J-schools and creative writing departments rarely teach editing, at least not in the systematized way as it is conceived of in the media industry. I relish speaking on this topic, so please don't hesitate if you're interested in a guest lecture for your students or want to reach out about pedagogical questions. For the past year and a half at Salon, I have been running an internal salon (ahem) among writers and editors, in which we talk about about editing and writing as a craft.
Slightly longer version of bio: 
My writing has appeared in Salon, Jacobin, McSweeney's Internet Tendency, Dissent, UnHerd, Alternet, Full-Stop, and a few dry academic journals with anodyne titles. Beyond the aforementioned book, I wrote a chapter of the 2019 book "Aliens in Popular Culture: A Guide for Visitors from Outer Space." Previously an artist-in-residence at ArtSpan in San Francisco, I practice conceptual art as a hobby. Recent interviews include in the Huffington Post, Truth-out, on R.J. Eskow's podcast The Zero Hour, the podcast Future Left, and by Meghan McCain on America Now Radio. In 2016, I was selected as one of 100 international "Leaders of Tomorrow" by St. Gallen University's St. Gallen Symposium.
Prior to working in journalism, I worked in the astronomy field as a research assistant on gamma-ray and radioastronomy telescope projects; taught high school math and science; worked for a regional theater company in communications; and was a PhD student in English.
Peruse the menu to check out my portfolio or get in touch.
---